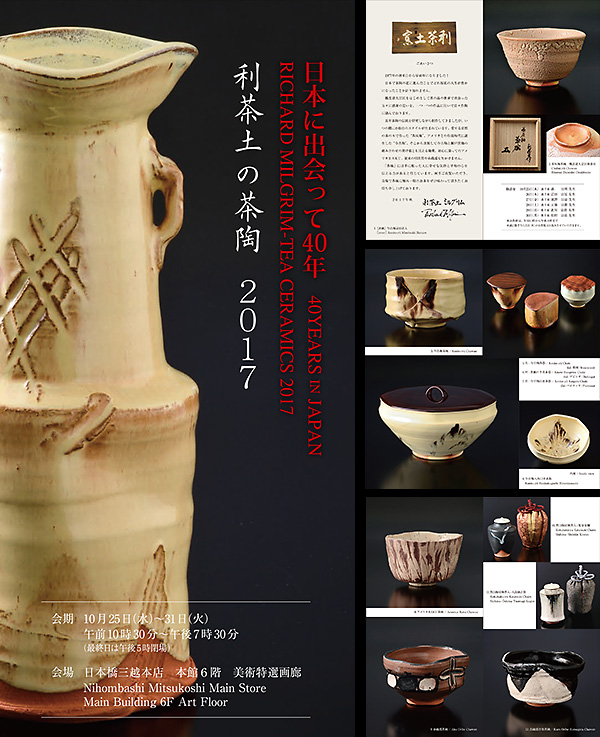 会期 平成29年10月25日(水)~31日(火)
   午前10時30分〜 午後7時30分(最終日は午後5時閉場)
会場 日本橋三越本店 本館6階 美術特選画廊
   〒103-0022 東京都中央区日本橋室町1丁目4−1
OCTOBER 25th - 31th
10:30AM-7:30PM (5PM Closing on 10/31)
Nihonbashi Mitsukoshi Main Store
Main Building 6F Art Floor
---
ごあいさつ
1977年の初来日から早40年になりました!
日本で茶陶の道に進んだことでどれ程私の人生が豊かになったことか計り知れません。
鵬雲斎大宗匠をはじめとして茶の湯の世界で出会った方々に感謝の思いを、一つ一つの作品に注いで日々作陶に励んでおります。
長年茶陶の伝統を研究しながら制作してきましたが、いつの間にか独自のスタイルが生まれています。愛する京都の茶の木で作った「茶灰釉」、アメリカとの往復時代に誕生した「今古釉」、そこから進展して今古釉と瀬戸黒釉の組み合わせの架け橋とも言える釉薬、初心に還ってのアメリカRAKU、従来の引出黒や赤織部も欠かせません。
「茶碗」には手に取った人に幸せな気持と平和の心を伝える力があると信じています。何卒ご高覧いただき、会場で茶碗に触れ一服のお茶をぜひ味わって頂きたくお待ち申し上げております。
2017年秋
利茶土ミルグリム
---
Greeting
I can hardly believe 40 years have past since I first journeyed to Japan in 1977!
It is hard to estimate the extent to which my life has been enriched while pursuing a career in the field of tea ceramics here in Japan.
Moving along this path creating new works for tea, I strive to imbue my pieces with a feeling of gratitude towards Daisōshō and all the wonderful people I have been fortunate enough to encounter in the world of tea.
After 40 years immersed in my research of the traditions of tea ceramics it is particularly meaningful to see that most of the current works for this exhibition are actually my original glazes, combinations & styles that have evolved over the years. Chabai-yū, (Tea Ash glaze), born from ash from the finest tea trees of Uji in my beloved Kyoto. Konko-yū, (Concord glaze), originating from my former American studio outside Boston, as well as its use in conjunction with Seto Guro-yū (Black Seto glaze), a pairing that creates a ceramic bridge between the US and Japan. In addition, another unique style from my early days in clay (pre-Japan), which I call America RAKU, incorporating an American glaze on Japanese clay to form another "ceramic bridge" between the US and Japan, not to mention my interpretations of Red & Black Oribe wares.

I truly believe that simply by holding and using a tea bowl you can experience a sense of joy and peacefulness that can enrich ones life. I sincerely hope you will be able to feel one of these "chawan" personally, while sharing a bowl of tea in the gallery. Looking forward to seeing you there!
Fall 2017
Richard Milgrim