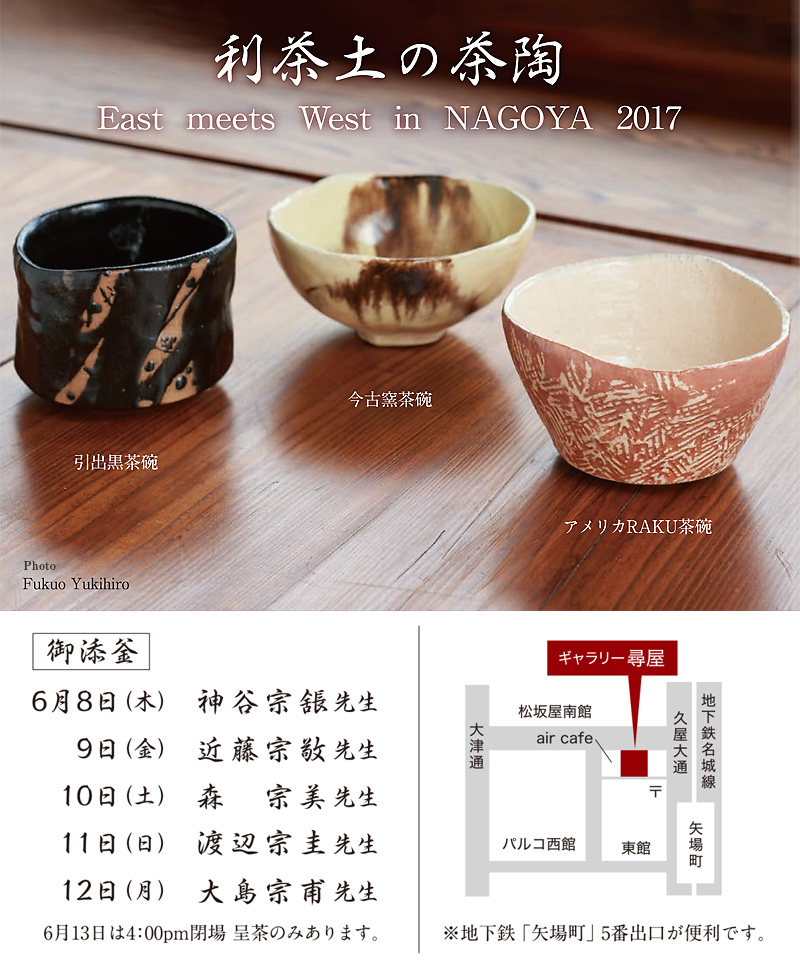 会期 平成29年6月8日(木)~13日(火) 11:00 AM〜 18:00 PM
会場 ギャラリー尋屋(ひろや)
〒460-0008 名古屋市中区栄3-31-3 コンフォレスト 尋屋ビル5F  TEL 052-262-6800
JUNE 8th - 13th 11AM-6PM Gallery HIROYA (PH. 052-262-6800)
I will be present in the Gallery throughout the exhibition and tea will be served.
The gallery is on the 5th floor of the Conforest Hiroya Bldg. accessible from #5 exit of YABACHO Station on the Nagoya Subway.
---
ごあいさつ
ちょうど40年前の梅雨入りの頃に名古屋で偶然にも助けられた事がきっかけで、それまで民芸に集中していた眼が"茶碗"に向かうようになったのです。
その後アメリカと日本の両国で次々と素晴らしい出会いが重なり、裏千家15代鵬雲斎御家元と巡り会うこととなりました。日本各地の名工の元で5年の修業を積み、32年前京都の山奥に窯を築いて独立、鵬雲斎御家元に"利茶土窯"とご命名頂きました。
桃山茶陶を土台にして21世紀の茶の湯に相応しい独自の作品の創造に打込み、日本とアメリカの架け橋となるべく努力し続けています。
名古屋とのご縁を結んで下さった江嵜勇三氏に心から感謝申し上げ、名古屋の多くの方々との新しい出会いを楽しみにしております。
2017年 深緑に向かう候
利茶土ミルグリム
---
Exactly 40 years ago this week I was standing in the rain hitchhiking for hours near Nagoya when I was suddenly rescued by a young man who drove me all the way to Tokyo! This seemingly innocent event was a catalyst in shifting my focus from the world of Mingei (folk art) ceramics to Chatou (tea ceramics), and was the beginning of a series of magical encounters throughout that year ('77) in Japan that has continued to this day. Key among them was my meeting in NY with Dr. Sen Genshitsu, the 15th generation Grand Master of the Urasenke Tradition of Tea in 1979. With his support I was able to apprentice with 4 master potters of different traditions over the next 5 years which led to the establishment of my own kiln in the hills outside Kyoto 32 years ago, honored with the name Richado-Gama by Dr. Sen himself.
Inspired by the wonderfully unique and timeless tea ceramics of the Momoyama era (1575-1615), I strive to create original tea wares that will not only "fit" the Way of Tea in the 21st century, but also serve as a bridge between my 2 countries, Japan & America, while serving as vehicles of peace.
To Mr. Yuzo Ezaki, the man who resucued me on that rainly night so long ago, I offer my gratitude for making this, my first exhibition in Nagoya, a reality. And to the tea people of Nagoya, I look forward to many wonderful new encounters during this exhibition. I hope you will enjoy my recent works.
Richard Milgrim, June 2017