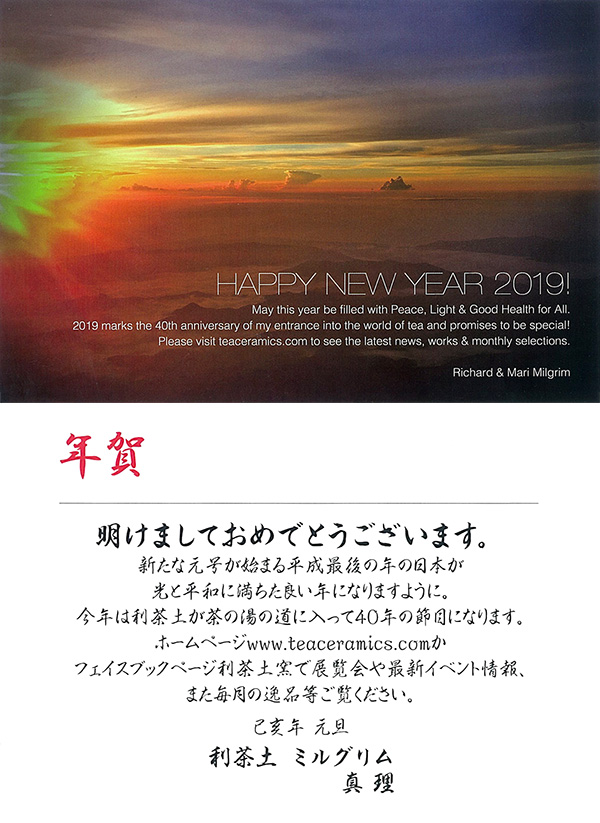 HAPPY NEW YEAR
Wishing you all the best from cyberspace!Hoping you all had a wonderful New Year's celebration/vacation to begin 2019!
The first selection of the month for 2019 has a strong connection to the recent presentation I gave at TEDx Kyoto (in English) this past November. The talk (about 16 min) can be seen by accessing a direct link posted here to YouTube. Please listen in for a better understanding of the meaning behind my work. Any comments are sincerely appreciated.

February 28th, 2019 marks the 40th year since my life changed as I began to study The Way of Tea (CHANOYU) in Boston with Allan Palmer Sensei on the 388th anniversary of the passing of Sen no Rikyu, the most revered tea master in Japanese history. 5 years later, in 1985, Dr. Sen Genshitsu (Soshitsu at the time), the 15th generation descendant of Rikyu and grand master of the Urasenke Tradition of Tea, blessed me with the Japanese name 利茶土, (Richado) honoring me by using the first character from Rikyu's name.

In commemoration of this auspicious occasion, I am planning to hold 2 exhibitions this year comprised of 40 teabowls each, in Kyoto & Osaka. The details will be posted as soon as they are finalized.

Mari & I look forward to seeing those of you we know and meeting those of you we haven't yet met in 2019 and sharing a bowl of tea.

Please email info@teaceramics.com if you are interested in visiting our RichadoGama Kyoto gallery directly.
---
あけましておめでとうございます
インターネットで繋がる世界から新年のご挨拶を申し上げます。皆様が2019年のスタートをつつがなく迎えられました事を祈っております。

平成31年始まりの月の逸品は、昨年11月に催されたTEDxKyotoのプレゼンテーションと大きく関わっています。およそ16分間の話(英語です)はYouTubeで聴けます。私の仕事を深くご理解いただけるかと思いますのでぜひご覧いただきまして、ご意見、ご感想等お寄せいただきましたら有難いです。

2019年2月28日は私がボストンのアラン パーマー先生の元で茶道を学び始め、人生の転機となった日から40年の記念日です。
あの日は茶の湯の祖と崇められる千利休の388回目の命日でした。
それから5年後の1985年には利休様を先祖とされる裏千家15代千宗室御家元(現千玄室大宗匠)より利休様の一字を当て"利茶土"の日本名を付けていただくこととなりました。

このめでたい年を記念して、今年は京都と大阪で40碗展を企画しています。最終的に詳細が決まり次第お知らせします。

私共がよく存じ上げている方々、また今までお目にかかる機会のなかった方々、共に一碗のお茶を分かち合えますよう祈っております。

利茶土窯の京都にあるギャラリーに興味をお持ちの方は、info@teaceramics.comまでメールでお申し込み下さい。